ESRs on board: our 1st Annual Meeting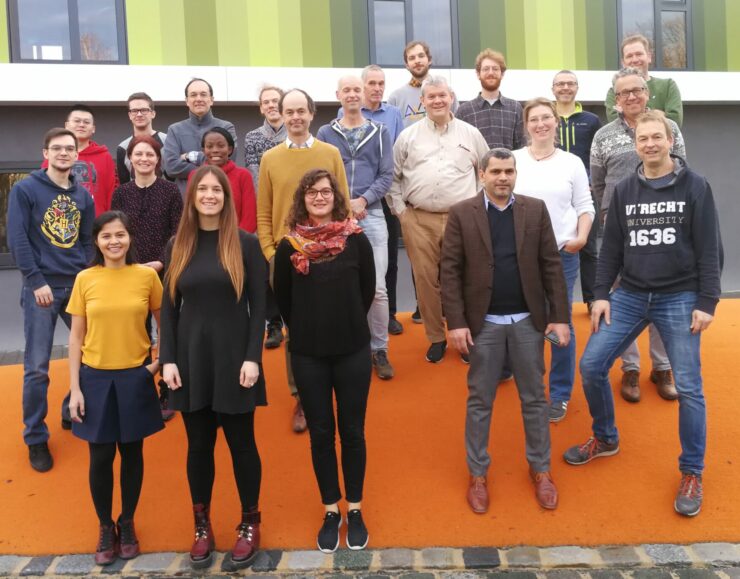 Participants of the 1st Annual Meeting: first row – Rochelle Saracanlao (KULeuven), Victoria Barcala (DELTARES), Melanie Münch (UU), Naresh Kumar (UNIVIE), Thilo Behrends (UU); second row – Oleksandr Bolielyi (GEOS), Susan Reichel (GEOS), Tolulope Ayeyemi (US), Eric Smolders (KULeuven), Leonard Osté (DELTARES), Stephan Krämer (UNIVIE), Sylvia Walter (UU), Stefan Peiffer (UBT); third row – Mingkai Ma (UU), Ville Nenonen (EAWAG), Antonio Delgado (US), Walter Schenkeveld (UU), Lex Bouwman (PBL / UU), Karel As (UBT), Rouven Metz (UNIVIE), Andreas Voegelin (EAWAG), Gerwin Koopmans (WU)
The 1st Annual Meeting of P-TRAP (or also called Kickoff Supervisory Board (SB) Meeting) took place in Bayreuth, Germany, from 8th to 10th of January 2020. The initial planning was to hold the meeting in project month 9. Due to the late start of several ESRs the meeting had been slightly postponed by two months. Nothing wrong with that, Bayreuth in January is as beautiful as in November!
As those short meetings mean a lot of traveling for a lot of busy people, we try to make them as efficient as possible. Therefore the meeting was held in association with the first Transferable Skills Training Course (TSTC1). Both, the training and the meeting were perfectly organised and hosted by UBT which gave a feeling of being warmly welcomed. Thanks for this!
The meeting was scheduled for two full days in total and aimed on scientific exchange within the consortium, updating each other about the progress and train the Early Stage Researchers (ESRs). We also invited our External Advisory Board (EAB) to participate. Lex Bouwman from PBL and Gerwin Koopmans from Wageningen University joined us and shared their thoughts about how the project is going with us. They advised us how to improve our plannings, and their recommendations were highly welcome. Their feedback was very useful for us and will help to further improve P-TRAP working towards impactful results.
As time flies, -4 years sound longer than they are if you have a dense schedule-, we already planned the upcoming work for the next reporting period and focussed particularly on the due deliverables and milestones.
The ESR, although most of them have just been started a few weeks or months before the meeting, presented their projects as short pitches and posters and discussed their ideas with the consortium. An intensive discussion about their career development was also scheduled for the ESRs together with their supervising team. This helps to get a good idea of what is needed when, and to focus within the project.
Scientific projects live from collaboration and interaction, and not only between the seniors but also together with the juniors. The ESRs and their training are one of the main focus, so they where invited for alternative discussions about the organisation of e.g. the training and research logs or the use of social media within the project. The last day was dedicated to consortium related issues such as data management and public relation strategies, and evaluative feedback.
We are looking back to a fruitful meeting and forward to our next P-TRAP year!
Impressions of the 1st Annual Meeting
| | |
| --- | --- |
| | |
| P-TRAP coordinator Thilo Behrends is opening the meeting by giving a brief project introduction and overview of the first year. | One of the project pitches, given by Ville Nenonen (EAWAG). |
| Poster session with lots of interesting and detailed discussions! | Working groups of ESRs and supervisors planning upcoming experiments and activities. |
| ESRs in discussion about their public engagement strategies …. | … and the outcome presented on the last day of the meeting. |
| Planning of the next due deliverables and milestones (Susan Reichel, GEOS). | Appreciated feedback from the External Advisory Board (Lex Bouwman, PBL/UU). |