Work packages
P-TRAP has 7 Work Packages, each lead by a dedicated and experienced beneficiary. The Work Packages (WPs) are organised in 3 scientific (WP 1-3), 1 training (WP 4) and 3 more administrative WPs (WP 5 – 7). To ensure a smooth and successful course of the project and the fulfilment of the requirements of the funding agency, the WPs are closely interconnected and each WP tackles specific objectives and tasks.
WP 1 – Closing the cycle of P application in agriculture: Within WP 1 we will develop, test, and optimise novel approaches for capturing P in drainage systems and convert the resulting P-containing Fe(III)oxides into marketable fertilisers.
WP 2 – Novel method for long-term P binding in lake sediments: The second scientific WP aims on establishing an innovative method for mitigating eutrophication in lakes by adding Fe-containing by-products form water treatment.
WP 3 – Mechanistic studies on P dynamics during Fe phase transformation: Across the first two WPs, WP 3 will develop deterministic, quantitative models for processes and mechanisms controlling the behaviour of P during the transformation of Fe-minerals.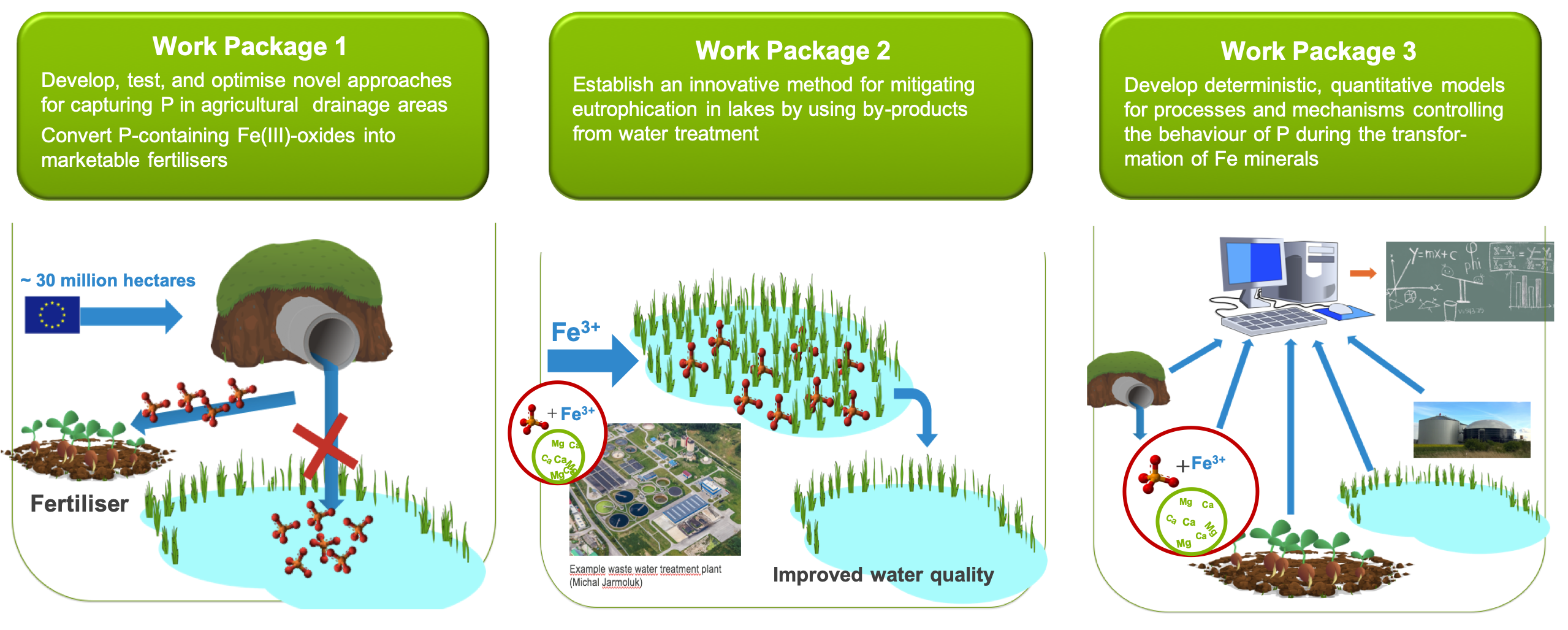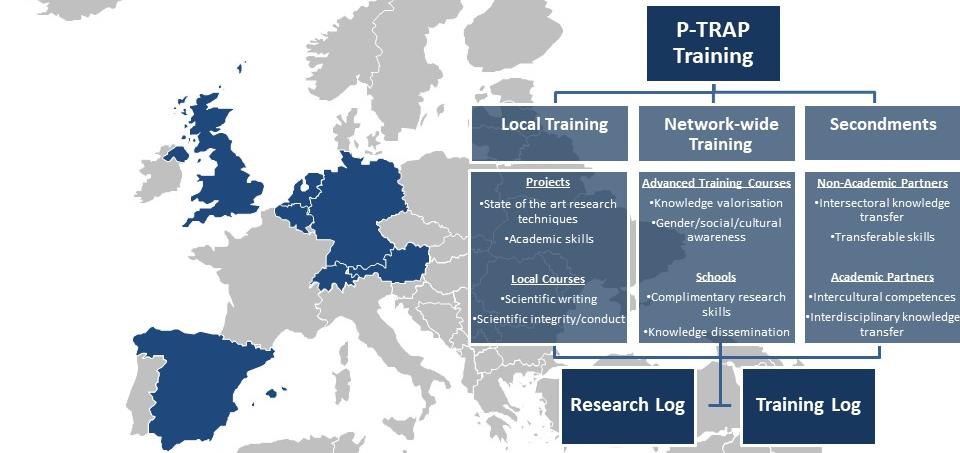 WP 4 – Training: The work package is organising and monitoring the ESR training at all levels – local, national and international, individually and in the context of the network. WP 4 aims on the preparation of P-TRAP ESRs with key competences to tackle scientifically complex and societally relevant issues.
WP 5 – Management: P-TRAP is an international project, the consortium consists of 16 participants from 7 countries. It is regulated and monitored by the European Research Executive Agency (REA). Appropriate management structures and procedures – organised and controlled within WP 5 – ensure a smooth and successful course of the project and the fulfilment of the requirements of the funding agency.
WP 6 – Dissemination / Outreach: The data and methods gathered and developed within P-TRAP will help to avoid wasting resources, enhance the water quality of lakes and by this meet the objectives of the European Water Framework Directive. It is essential to disseminate and exploitate  the gained knowledge to ensure a broad usage and benefit, thus WP 6 aims on valorization of the project results and by this to maximise the impact of the project.
WP 7 – Ethics: The applicants had to demonstrate before signing the Grant Agreement, that they follow the health and safety procedures conforming to relevant local / national guidelines and legislations for their staff involved in the project.